Elon Musk warns world of 'anti-human' AI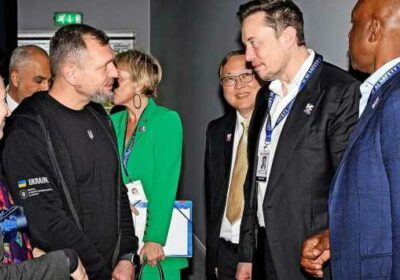 He said that unless AI is properly regulated it is more dangerous than a nuclear bomb. His bleak assessment came as the UK's AI Safety Summit got under way at Bletchley Park yesterday.
World leaders, leading AI experts and tech industry bosses will attend the landmark two-day summit called by Prime Minister Rishi Sunak.
US vice president Kamala Harris, European Commission president Ursula von der Leyen, Ukraine's deputy ­minister for digital transformation, Georgii Dubynskyi, and, controversially, a Chinese technology ­minister are attending.
The two-day gathering, held in Buckinghamshire at the home of Britain's Second World War codebreakers, is the first global summit on artificial intelligence safety.
Mr Sunak is expected to use discussions as the basis for a global advisory board for AI regulation. Speaking on the Joe Rogan Experience podcast before arriving in the UK, X owner Mr Musk said the "most likely outcome" of AI is "a good outcome" but cautioned: "It is not for sure."
READ MORE: Humza Yousaf brutally snubbed by Rishi Sunak as SNP left out of major UK summit
He added: "We have to be careful on how we program the AI and make sure that it is not accidentally anti-human.
"This is, I think, maybe more dangerous than a nuclear bomb."
Meanwhile Ms Harris said concerns about artificial intelligence safety had to go beyond "existential" fears about threats of cyber attacks or the development of bioweapons.
Don't miss…
Frosty glare between Elon Musk and Ukraine's chief after Starlink satellite row[WORLD]
Elon Musk calls Humza Yousaf a 'racist' after 'whites fill all top roles' claim[UK]
Kanye West says 'car crash gave him autism' and Kim K is keeping kids from him[CELEBS]
Advert-free experience without interruptions.
Rocket-fast speedy loading pages.
Exclusive & Unlimited access to all our content.
In a speech from the US embassy in London, she said the "full spectrum" of AI risks included events like a young father wrongfully imprisoned because of biased AI facial recognition. She said: "Is that not existential for his family?"
Technology Secretary Michelle Donelan said a "world-first" statement on the risks around artificial intelligence has been agreed ahead of the opening of the AI safety summit.
She said the agreement was a "landmark achievement".
Source: Read Full Article