Gaza hospital preparing to evacuate babies as patients trapped inside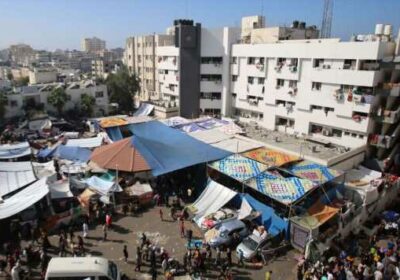 Gaza's biggest hospital has reportedly run out of water, food and electricity as patients remain trapped inside.
The BBC reports heavy fighting is taking place around the Al-Shifa hospital. Israeli officials claim they have clashed with Hamas near to the hospital but have not fired at it.
A surgeon has now claimed the hospital has run out of vital supplies. While it has been reported babies are set to be evacuated to a "safer hospital".
Medics said two babies have died with another 37 at risk. Thousands of people are said to be sheltering inside Al-Shifa, which has been the centre of fighting.
READ MORE: Israeli soldiers killed by Hamas tunnel booby-trap blast next to Gaza mosque
The Israel Defence Forces (IDF) has repeatedly accused Hamas of operating from tunnels under the hospital. This is something Hamas has denied.
Surgeon Marwan Abu Saada told the BBC the sound of shooting and bombardments could be heard "every second". He says they have been unable to bury the dead.
Claiming the morgue refrigerator was not working, he said: "We don't want to have any outbreaks due to these dead bodies."
Israel says there is no siege at Al-Shifa. It also claims the east side of the hospital was open for the safe passage of those who wanted to leave.
Don't miss… Rishi Sunak speaks out to condemn 'unacceptable' protests on Remembrance Day[LATEST]
Support fearless journalism
Read The Daily Express online, advert free
Get super-fast page loading
Spokesman Rear Admiral Daniel Hagari said Israel would help those "in the paediatric department to get to a safer hospital" on Sunday. He said the decision was made after a request from the hospital.
Medics have warned the number of incubators in the hospital has been reduced due to the power shortage.
Fighting between Israel and Hamas has raged on since October 7 after a surprise attack from the group killed 1,200 people in Israel. An estimate 11,000 people in Gaza have been died after Israel responded.
Source: Read Full Article