Goalie didn't think The Repair Shop would want Pele-signed programme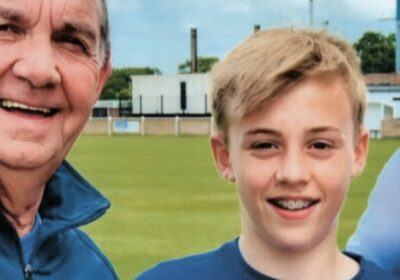 What it was like to play against my idol Pele: Ex-West Ham goalkeeper Peter Grotier reveals how he felt lining up against Brazil legend after his programme from historic game was restored in emotional Repair Shop episode
EXCLUSIVE: Keeper didn't think signed Pele programme would be 'interesting'
Legendary West Ham goalkeeper Peter Grotier has revealed how he felt lining up against his idol Pele after his programme from the historic game was restored in an emotional episode of The Repair Shop.
Grotier has humbly admitted he didn't think The Repair Shop would be interested in restoring his programme from a match between the Irons and Brazilian side Santos – even though it was autographed by Pele.
Recalling his memories of the iconic iconic match, the former Irons goalkeeper revealed the enormity of playing against Pele a 'man that I had idolised ever since I was playing football'.
The said that while while 'the great man scored against me twice' he now does not mind as to me 'he was the greatest goalscorer and he scored against me'.
The 72-year-old says he has been inundated with 'fantastic' messages from fans and friends alike after his priceless souvenir of the game was lovingly restored by BBC One's The Repair Shop.
West Ham goalie Peter Grotier (centre) proudly holds the pre-restoration programme with Angelina Bakalarou and Jay Blades of The Repair Shop
Before and after pics show that Angelina Bakalarou of The Repair Shop team 'scored a winner' after she brought the beloved keepsake back to life
Appearing emotional at the reveal, Grotier said: 'Good memories. It was a big thing in my life to play in that game and it all came flooding back then'
Bobby Moore and Pele at the New York exhibition match between West Ham and Santos in 1970, in which Peter Grotier played as goalkeeper
At the age of 19 the goalkeeper was part of the team flown out to New York in September 1970 to play an exhibition match between West Ham and Pele's domestic side, in a line-up that also included Bobby Moore.
READ MORE: Emotional moment ex-West Ham goalie Peter Grotier sees his Pele-signed programme brought back to life by The Repair Shop as he vows to hand it on to his grandson so he can 'remember my career when I'm not here'
In scenes broadcast on Wednesday night, Grotier became visibly emotional as the once-tattered 53-year-old booklet was unveiled to him in newly pristine condition – a moment he described on the show as 'unbelievable'.
But the restoration, carried out by expert Angelina Bakalarou, almost didn't happen – as Grotier didn't think the show would be interested following the death of football legend Pele, 82, on December 29 last year.
Speaking to MailOnline, Grotier said: 'When Pele passed away, I was sitting at home and my future daughter-in-law Natasha came to me and said: "Why don't you get that programme out and contact The Repair Shop?"
'I said: "They won't take any interest in that." But I went online, I applied to go on, and it was a couple of months before I heard anything and they loved it.
'I suppose I underestimated it a little bit. He was my idol, along with my captain, Bobby Moore – both my idols.
'To see the programme as it is now is fantastic. It really is something special.'
As the episode went out on Wednesday, Grotier got his family around the TV, along with the irreplaceable souvenir, to see how the restoration was carried out.
Despite appearing on the show, the goalie wasn't privy to how it was fixed before transmission – meaning he saw the transformation at the same time as everyone else who tuned in.
On the show, Grotier sounded visibly emotional as he picked up the programme, remarking: 'Good memories. It was a big thing in my life to play in that game and it all came flooding back then.'
He continued: 'I really was (emotional) – it was far above my expectations and seeing the way it was done last night…amazing. It was the first time I had seen what Angelina did.
'When I went in with the programme the middle two pages had been badly damaged – but she has actually got all the print exactly put together as it was.
'I never, ever thought she'd actually be able to do that. It's absolutely perfect.'
Bakalarou shared pictures of the restoration effort on her Instagram, writing: 'It was such a fun conservation treatment and I am so happy I was able to give it back some of its previous glory.'
Grotier says he will be passing the programme to his grandson, Joseph, who captains Essex side Wivenhoe Town FC Under-18s.
He added that the 17-year-old had learned about Pele after watching a 2021 documentary released by Netflix – and was astonished that his grandfather had played against the legend. 
Peter Grotier with grandson Joseph, to whom he intends to pass on the signed programme
Ms Bakalarou set to work, first washing the programme by soaking the paper in a bath to remove any dirt. She can be seen here filling in damaged parts
Ms Bakalarou went over the surface of the paper with a methyl-cellulose solution to give it back some strength and flexibility, before allowing it to dry under weights to keep it flat
A post shared by Angelina Bakalarou (@angelina_bak)
He added: 'Before the programme was on, Joseph had seen the film about Pele. We watched that and I remember him saying: "Did you play against that man?"
'I said: "Yes I did, Joseph," and he sat with me and watched it. That was really to big him.'
The West Ham-Santos exhibition clash took place on September 22 1970 at Downing Stadium in New York – a dimly lit sports facility used for everything from American football to baseball as well as track and field.
READ MORE: Pele was a cut jewel – sharp-edged, glittering and flawless. Brazil's three-time World Cup winner was perfect in every dimension and stands alone as football's greatest of all time
Grotier was chosen as part of the team to fly out for the match, which came three months after Brazil – captained by Santos player Carlos Alberto Torres – lifted the World Cup in Mexico.
It was promoted as a clash between Pele and England captain Bobby Moore, both of whom featured on the cover of the programme that Grotier had signed.
After the game, a function was held for both teams and Grotier seized his chance to meet his hero properly, and to ask him to sign the programme – which the Brazilian did, responding to the keeper's request with a simple: 'My pleasure.'
Recalling his memories of the match, the Irons goalkeeper said: 'To be picked in the squad and to realise that I was going to play in the game…and to stand on the touchline before the game – and there's this man that I had idolised ever since I was playing football.
'Before we knew it, we were one goal down – the great man scored against me twice. Then at half time the manager, Ron Greenwood, told me I'd play one minute and Bobby Ferguson would be coming on.
'True enough, I came back on, played for a minute, and that was that. I conceded two goals to Pele.
'Later on, he signed it, I thanked him, shook his hand, and that was that.
'He didn't ask for my signature, though,' he joked.
'I was a professional at the end of the day, and you never like conceding goals, but looking but it now I don't really care – to me he was the greatest goalscorer and he scored against me.' 
Peter Grotier playing for West Ham during the 1969/70 season
Pele is regarded as one of the world's greatest ever footballers
Grotier says he'll never forget playing against the Brazilian, who died at the end of last year at the age of 82
The goalie, who made 54 appearances for West Ham and went on to enjoy spells at Cardiff City, Lincoln City and Grimsby Town, admits that the restored programme is still kept in the folder he carried it in on The Repair Shop.
Restorer Angelina has advised him that it cannot sit in daylight without a special frame that repels ultraviolet light, or the rejuvenated paper will fade – but he is hoping to sort the frame soon.
Regardless, he and his family are delighted with the finished result – and Grotier says Joseph has vowed to look after it when he is gone.
He summed up: 'It's something I will always remember and I am sure it will be looked after by Joseph when I'm not here anymore – though I've got a long while yet, I hope.
'Once I'm no longer with this lovely world he'll look after it. He's a good footballer and all good footballers are good to their word.'
Source: Read Full Article