Israeli man begs Hamas to release his wife and kids held hostage – 'Take me'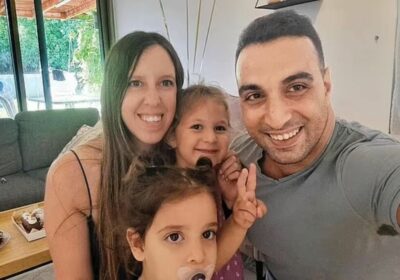 An Israeli man is desperately appealing for the safe return of his wife and two children after they were kidnapped by Hamas terrorists.
In a desperate plea to the militants, Yoni Asher is asking them not to harm his family.
He has even offered to exchange himself in return for their safety. The abduction occurred while they were visiting his mother-in-law in Nir Oz, near the Gaza border.
The anxious father shared that his wife, Doron, conveyed her fear over the phone, stating that there were "terrorists inside the house".
He later saw a distressing social media video showing her on the back of a pick-up truck with other hostages.
READ MORE Counter protests erupt in NYC's Times Square after pro-Palestine march[LATEST]
Terrorists carried out cross-border raids early Saturday, abducting dozens of people, including the elderly, women and children.
Since then, intense fighting has erupted, resulting in hundreds of casualties on both sides.
Hamas targeted various locations, including a peace festival in the desert, where they killed many and kidnapped others.
In one heart-wrenching incident, Noa Argamani pleaded for her life as she was forcibly placed on a motorcycle by militants.
Her boyfriend was held by a group of men nearby.
Today, Noa's distraught father, Yaacov Argamani, expressed deep concern for her safety.
The Israeli government formally declared war Sunday and gave the green light for "significant military steps" to retaliate against Hamas.
At least 700 people have reportedly been killed in Israel, with many more injured or missing.
We use your sign-up to provide content in ways you've consented to and to improve our understanding of you. This may include adverts from us and 3rd parties based on our understanding. You can unsubscribe at any time. More info
Authorities were still trying to determine how many civilians and soldiers were seized by Hamas fighters during the mayhem and taken back to Gaza.
From videos and witnesses, the captives are known to include women, children and the elderly.
Follow our social media accounts here on facebook.com/ExpressUSNews and @expressusnews
Source: Read Full Article