Pro-Palestine vandals release mice at McDonald's and smash windows in string of attacks on businesses supporting Israel | The Sun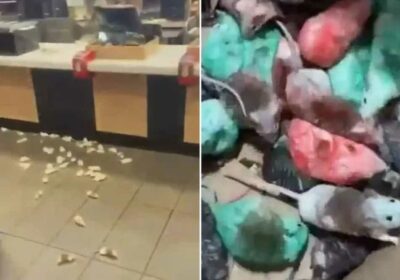 PRO-Palestine vandals have released mice and smashed windows at McDonald's in a string of attacks on businesses supporting Israel.
Shocking footage has shown the live rodents being tossed from bins and onto the floor in at least three different UK restaurants.
In one of the clips – which was uploaded to social media – the masked men can be heard yelling: "Free Palestine."
Palestinian flags can be seen, and more chanting can be heard, in other videos, too.
More footage has also been uploaded to TikTok of rats painted red, green and black – for the colours of the flag.
Elsewhere, the aftermath of another attack showed what appeared to be hammer marks scattered across a McDonald's restaurant's glass.
Read more on news
BULLSEYE STRIKE
Israel fires 'missile-killer' for first time & downs rocket shot from Yemen
BATTLE OF GAZA
Israel 'shakes earth' & says get out NOW ahead of another night of strikes
The attacks on the fast food giant are said to come from it supporting Israel.
However, McDonald's said this was "disinformation".
Police have said they are probing the attacks and this afternoon released photos of two men they want to speak to over the mice being thrown into Birmingham restaurants.
McDonald's Corporation today told The Sun: "We are dismayed by the disinformation and inaccurate reports regarding our position in response to the conflict in the Middle East. 
Most read in The Sun
TRAGIC END
Sir Bobby Charlton's cause of death revealed after Man Utd legend died aged 86
SPOOKY SEASON
Maya Jama wows in leather catsuit as celebs celebrate Halloween in style
CROCK DJ
Robbie Williams in plastic surgery confession as he claims he's got 'manopause'
FLAME OF THRONES
Sophie Turner moves on from Joe Jonas & snogs hunk who just dumped royal
"McDonald's Corporation is not funding or supporting any governments involved in this conflict, and any actions from our local Developmental Licensee business partners were made independently without McDonald's consent or approval.
"Our hearts are with all of the communities and families impacted by this crisis. We abhor violence of any kind and firmly stand against hate speech, and we will always proudly open our doors to everyone.
"We are doing everything we can to ensure the safety of our people in the region while supporting the communities where we operate."
West Midlands Police said it was investigating a "public nuisance offence" after "live rodents were thrown into a restaurant".
The force said: "We understand the distress this will have caused and it's not acceptable in any circumstances.
"This is currently being treated as a public nuisance offence and we've active lines on enquiries to identify, and then arrest, who was involved."
The foce added that it wanted to speak to Amir Khan and Billal Hussain, 32 and 30, as they believe they may know more about the mouse incidents.
The cops said: "Our position is clear, this is appalling, and will not be tolerated. We will hunt down and prosecute anyone who commits such acts.
Read More on The Sun
AWKS
Huge Married At First Sight UK spin-off revealed – but one wife is cruelly snubbed
GAME'S ON
McDonald's launches new Monopoly-style game for Christmas
"We're stepping up patrols across the region and will be offering reassurance to our communities.
"Anyone with information to trace this pair can contact us via Live Chat on our website, or by calling 101."

Source: Read Full Article