Romania furious after bold Russia launches missiles strikes on near NATO border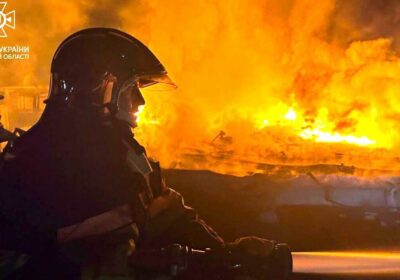 NATO member Romania has expressed fury at Russia after more than two dozen kamikaze drones were fired at a port just metres from its border.
In the early hours of Sunday morning, the Ukrainian port of Reni, on the Danube River, was hit by at least three Iranian-made Shahed-136 drones fired by Russia, while a further 22 were shot down.
Since Russia withdrew from the Black Sea Grain deal in mid-July, which had provided a safe passageway for vessels carrying food exports from Ukraine to the global south, Kyiv has made use of the Danube Delta to circumvent the new blockade.
But Russia has responded by targeting the two Ukrainian ports of Reni and Izmail, both of which are on the border with Romania, demarcated by the Danube River, that are vital to this new route.
While the intended Russian targets remain within Ukraine, their proximity to Romania's border heightens the risk of a misfire causing damage to NATO territory.
READ MORE Russia 'destroys' four military boats belonging to Ukraine on the Black Sea[REPORT]
Romania's ministry of defence condemned the drone attack on the opposite eastern bank of the Danube and said it broke "international humanitarian law".
While they claimed it had not threatened their territory, they described the strikes as "unjustified".
Seeking to reassure their citizens, they added: "At no time did the means of attack used by the Russian Federation generate any direct military threat to the national territory or territorial waters of Romania."
Moldova, which used to be ruled by Moscow, also criticised the attack. Its government is now pro-Ukrainian and has accused the Kremlin of trying to destabilise the country.
Don't miss…
Volodymyr Zelensky sacks Ukraine's defence minister[REVEAL ]
Russia strikes key Ukrainian ports sharing border with NATO nations[REPORT]
Putin humiliated as Ukraine breaks Russia's main defensive line in major victory[REVEAL ]
"Russia must be held accountable for every piece of infrastructure destroyed," said Maia Sandu, the Moldovan President.
The strikes came just over 24 hours before Vladimir Putin is set to meet his Turkish counterpart, Recep Tayyip Erdogan, to discuss the collapsed Black Sea grain deal.
The initiative was originally brokered by Turkey under Mr Erdogan; the leader has attempted to position himself as a mediator between the west and Russia with the help of the United Nations.
The pair are due to meet on Monday (September 4) in Sochi, southwestern Russia.
We use your sign-up to provide content in ways you've consented to and to improve our understanding of you. This may include adverts from us and 3rd parties based on our understanding. You can unsubscribe at any time. More info
The port of Reni lies on Ukraine's most westerly point, on the border with Romania and Moldova.
It was virtually unused for grain exports before the war but has been renovated as Ukraine looked for alternative export routes to the Black Sea.
Ukraine has said that the Danube Delta has now become "critical" for its exports as it can use the river system to send grain to Europe.
The Russian army said it had targeted "fuel storage facilities" in Reni. At least two people were hospitalised as a result of the attacks.
Source: Read Full Article