Storm Babet chaos: Millions still face disruption and eight dead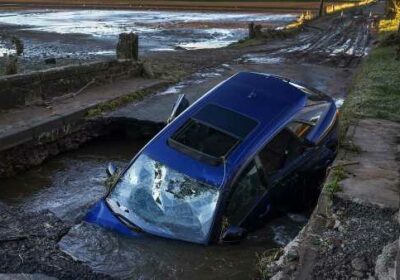 Storm Babet chaos: Map shows 250 flood warnings in place across Britain with millions facing travel disruption and eight dead after torrential rain and 80mph gales battered the UK
Storm has now passed – but leaves a trail of death and disruption in its wake
READ MORE: Storm Babet lifts up entire forest floor – with baffled dog on top
Storm Babet has left Britain after three days of chaos – but it has left a trail of death and disruption in its wake with at least eight people dead and millions facing travel problems into Sunday.
The storm, which has now passed, has flooded out Britain's rail network, with disruption expected to continue across Yorkshire, Scotland, East Anglia and the East Midlands; hundreds of flood warnings remain in effect across the country.
At least eight people are feared to have died during the storm, including a number of road crashes where the weather is believed to have played a part in the tragedy.
As of 8am in England, 229 flood warnings – meaning flooding is 'expected' – and three severe 'danger to life' flood warnings are in effect across Derbyshire, where a major incident was declared on Friday.
Severe flood warnings have been lifted overnight in Scotland, where a red 'danger to life' weather alert had been in place until 6pm on Saturday; 10 flood warnings remain in effect there, while in Wales there are six flood warnings and one severe alert.
DUNDEE: A car sits in the remains of a collapsed bridge at Fowlis, near the Scottish city, after Storm Babet. Locals said the occupant was rescued by a farmer
SANIACRE: An entire neighbourhood of the Derbyshire town sits partially submerged after severe flooding. Fire and rescue services have declared a 'major incident' in the county
More than 230 flood alerts remain in place across England today as the great clean-up begins
Flood warnings remain in effect across northern Scotland (left) and in both northern and southern Wales (right)
HOLYWELL: Flooding on the high street threatens to encroach on a local pub in this Cambridgeshire village on Sunday morning
READ MORE: Storm Babet leaves entire village underwater as floods devastate swathes of Britain – with travel disruption expected to continue today 
Fact-box text
In Scotland, a 57-year-old woman was swept to her death in the Glen Esk valley in Angus on Thursday; a 56-year-old man was killed by a falling tree close to nearby Forfar later the same day; and a man in his 60s was swept away by flood waters in Shropshire on Friday.
Elsewhere, police are said to be treating a crash in Halifax that killed a 19-year-old man and a pile-up on the M4 that killed two women, both on Friday, as being related to the inclement weather conditions. 
And a man and a woman were killed after their car plunged from a bridge near Skipton, North Yorkshire, on Saturday afternoon; officers have not stated whether the car left the bridge as a result of the stormy winds and heavy rain.
Clean-ups are underway in communities across the country as the flood waters finally began to subside. 
Derby City Council said they are seeing record-breaking water levels in the River Derwent – which left much of the village of Sandiacre underwater – and warned that cleaning up after the floods could take several days. 
Wedding photographer Harvey Morgans, who captured dramatic footage of the submerged streets, was left stunned by what he saw on his drone.
He said: 'It's affected everyone on the street, devastated a lot of people's houses and livelihoods.
'The knock on effect over the next few months – people replacing cars and fixing property – will be massive.'
SOUTH SHIELDS: The sun rises over the Tyne and Wear town's lighthouse, which had its top ripped off by huge waves during Storm Babet, on Sunday 
SHEFFIELD: Cars sit abandoned in floodwaters in the village of Catcliffe in the early hours of Sunday morning 
DERBY: Fields near Derby rugby club sit underwater after the River Derwent burst its banks
DERBY: A youngster on a bodyboard makes the most of the unusual weather conditions
LONDON: Passengers pack out King's Cross Station on Saturday after train operators cancel services. The terminal was later temporarily closed while police controlled the crowds
BRECHIN: Angus Council worker Gav Stewart proudly shows off a fish he found among the detritus after the River South Esk burst its banks and flooded the eastern Scottish town 
READ MORE: 'King's Cross was more dangerous than Jordan': Passenger with Parkinson's disease describes scenes at London station amid Storm Babet cancellation chaos
Fact-box text
John Hinson, who lives in North Ferriby, East Yorkshire, arrived in London on Friday on Friday after a two-week holiday in Jordan where he was met with travel chaos caused by the extreme weather
It comes as 59 people and 12 animals were rescued from flooded homes in neighbouring Stapleford.
In Sheffield, South Yorkshire, 120 homes have been evacuated in the Catcliffe area after devastating flooding.
The River Rother reached heights of 30.44m, exceeding the level it reached in 2007 when the area was ravaged by disastrous floods.
Derbyshire Fire Service said more than 100 people had to be rescued in the county on Friday, including 20 people at a care home in Duffield.
In Wales, a severe flood warning has been issued for the village of Llandrinio, Powys, as well as isolated properties in the Severn-Vyrnwy confluence area. 
The Energy Network Association (ENA) said a 'small handful' of homes will still be without power on Sunday after around 100,000 customers were affected by power cuts. 
Katharine Smith, flood duty manager at the Environment Agency, says teams have been sent to the worst-affected areas to operate flood barriers and put up temporary defences, including pumps to get rid of flood waters.
She added: 'We also advise people to stay away from swollen rivers and urge people not to drive through flood water as just 30cm of flowing water is enough to move your car.'
In the North Sea, more than half the staff manning a drilling platform were airlifted to other sites after several of its anchors came loose during Storm Babet.
Coastguard helicopters were called upon to move 45 non-essential workers from the Stena Spey to neighbouring platforms and to Sumburgh on the Shetland Islands on Saturday due to the incident.
The rig is located around 146 miles east of Aberdeen. Stena Drilling said four out of eight anchors became detached from the drilling unit because of the severe weather.
Searches are continuing for a man reported missing to police on Friday who is said to have been trapped in a vehicle in floodwater in Marykirk, Aberdeenshire.
Rest centres were set up in Angus with more than 50 people opting to stay in one in Brechin after they were evacuated from their homes as the River South Esk breached the town's flood defences early on Friday morning.
Residents of nearby Bridge of Dun had to be airlifted via helicopter, while in other areas people stranded by flood waters were rescued by boats, including canoes.
CHESTERFIELD: A man gets a piggyback from a rescue worker to escape floodwaters
HORNSEA: A fallen tree lands in the garden of East Yorkshire resident Tessa Coombes during Storm Babet
ALCONBURY: A local resident goes to extreme lengths to get a photo of the devastation in Cambridgeshire on Saturday
INVERURIE: Emergency workers go door to door speaking with residents and distributing sandbags in the Aberdeenshire town over the weekend
Scottish justice secretary Angela Constance, who chaired a government meeting on the country's 'exceptional' rainfall on Saturday, said: 'The storm has caused significant damage and while flooding is still occurring, it is not expected to be as serious as over the last 24 hours. 
'The impact, however, will be felt in communities for some time to come.'
National Rail has warned of major disruption on the railways until the end of the day due to both flooding on the railways and the weather displacing train crews – meaning some services have been unable to run at all.
Disruption is expected on LNER, Scotrail, Northern, Transpennine Express, Greater Anglia, Transport for Wales, CrossCountry and East Midlands Railway services.
In a statement published on its website on Sunday morning, the umbrella group of train companies said: 'Disruption to trains is expected on some routes until the end of the day. Please check your whole journey before travelling.'
Police closed down King's Cross Station yesterday due to overcrowding, as rail bosses begged passengers to use different terminals amidst the chaos.
Temporary crowd control measures were instated by police before eventually being lifted at around 5pm – even as operators advised passengers not to travel.
Passenger John Hinson, who has Parkinson's disease, said he felt safer holidaying in Jordan – which lies between Syria and Israel – for the last two weeks than he did arriving at the London terminal.
He told PA: 'It was just so dangerous. I have Parkinson's and I have difficulty walking, so my wife went to ask for assistance and all assistance was cancelled.
'We were basically told that if we cannot get the train, we need to cancel and come back again.'
Source: Read Full Article