The beautiful European island where it's still a scorching 29C in October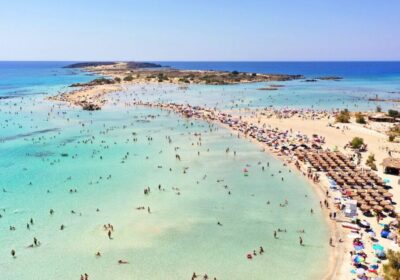 Greece: 5.5 magnitude earthquake strikes near island of Crete
A beautiful European island is perfect for an autumn getaway, with forecasts of 29C this weekend.
Crete in Greece is the largest and southernmost Greek island with mountains and a population of 624,000.
It has hot and dry summers reaching temperatures of 32C and mild winters lingering around 20C.
And there are still high temperatures in October, with highs this week of 28C and 29C.
There is plenty to do year-round such as visiting Chania, a harbour city with Venetian and Turkish influences, Elafonisi, a mile-long island of idyllic beaches accessible by foot, and Samaria Gorge, the island's national park with stunning vistas and soaring cliffs.
READ MORE Greece's sinking ghost village with 'eerie vibes' dubbed a modern Atlantis[LATEST]
There are also a number of historic sites on Crete including Moni Preveli, a 500-year-old monastery, and the Palace of Knossos, bronze age ruins of the Minoan civilisation.
The island has a history spanning 4,000 years, from the Minoans and the Romans to the Byzantines and the Ottomans, becoming a part of Greece in 1913.
And with temperatures remaining high, tourists can pay a visit to some of Crete's most popular beaches on the 650 miles of coastline, such as Balos, Falasarna, Frangokastello, Matala and Livadi.
DON'T MISS
Sunburn warning as scorching Britain to be hotter than parts of Greece[LATEST]
Most 'sought-after' Easter holiday destination is a 'serene paradise'[REPORT]
Fodele Beach Resort: Inside the all inclusive with it's own waterpark[INSIGHT]
Advert-free experience without interruptions.
Rocket-fast speedy loading pages.
Exclusive & Unlimited access to all our content.
Visitors holidaying on the island can stay in resorts, hotels and villas dotted around Crete.
Lots of UK airports do direct flights to Crete with flights being around four hours long and landing in either the capital Heraklion or Chania.
There are also ferries from the Greek mainland and other islands to Crete, docking in a number of seaside locations.
Source: Read Full Article