Teen sentenced to 7 years in prison for Lakewood Halloween 2022 arson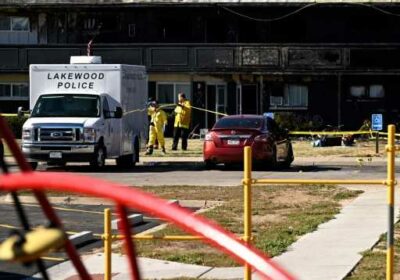 One of the two teenagers convicted of murder in a deadly Halloween 2022 apartment fire has been sentenced to seven years.
Lakewood police in November 2022 arrested a 14-year-old and a 12-year-old in the fire that killed 31-year-old Kathleen Payton and her 10-year-old daughter Jazmine Payton-Aguayo, injured ten other people and displaced everyone in the 32 units of the Ashley Square Apartments, 935 Sheridan Blvd.
The 14-year-old, now 15, pleaded guilty in July to two counts of first-degree murder, first-degree arson and assault charges.
He was sentenced Tuesday to seven years in the Colorado Department of Human Services Division of Youth Service with 113 days of pre-sentence confinement credit, according to a news release from the First Judicial District Attorney's Office.
The other teen has a status hearing Oct. 16.
Share this:
Click to share on Facebook (Opens in new window)

Click to share on Reddit (Opens in new window)

Click to share on Twitter (Opens in new window)
Policies
Report an Error
Contact Us
Submit a News Tip
Most Popular
Broncos releasing veteran OLB Randy Gregory, Sean Payton confirms, bailing on five-year contract after just 10 games

Broncos releasing veteran OLB Randy Gregory, Sean Payton confirms, bailing on five-year contract after just 10 games

Denver has 3 of the best budget-friendly restaurants in the U.S.

Denver has 3 of the best budget-friendly restaurants in the U.S.

Keeler: Who is CU Buffs football sensation Omarion Miller? A kid with Snoop Dogg in his corner and a father and grandpa forever in his heart

Keeler: Who is CU Buffs football sensation Omarion Miller? A kid with Snoop Dogg in his corner and a father and grandpa forever in his heart

Coors family teams up with real estate firm to transform 100-year-plus industrial site

Coors family teams up with real estate firm to transform 100-year-plus industrial site

"Nomadic" short-term rental host sues Denver, cheered on by others

"Nomadic" short-term rental host sues Denver, cheered on by others

3 of our favorite bites from Michelin-recommended restaurants in Denver

3 of our favorite bites from Michelin-recommended restaurants in Denver

Lauren Boebert escorted out of "Beetlejuice" musical in Denver after "causing a disturbance"

Lauren Boebert escorted out of "Beetlejuice" musical in Denver after "causing a disturbance"

Colorado's 150th-anniversary license plate featuring Pikes Peak is fastest selling in state history

Colorado's 150th-anniversary license plate featuring Pikes Peak is fastest selling in state history

Keeler: Denver hoops icon Chauncey Billups says only one team can keep Nuggets from repeating as NBA champs. And that's the Nuggets

Keeler: Denver hoops icon Chauncey Billups says only one team can keep Nuggets from repeating as NBA champs. And that's the Nuggets

Coach Prime TV series: Colorado film office may provide half a million dollars in tax rebates

Coach Prime TV series: Colorado film office may provide half a million dollars in tax rebates
Trending Nationally
San Jose BART extension will take 10 years longer than expected — at more than double the cost
Mass. governor 'distressed' by migrants displacing veterans for Army-Navy game
Tropical Storm Philippe soaks north Caribbean on path to Bermuda; forecasters watch new tropical wave in eastern Atlantic
Disney to offer half-price dining, theme-park tickets for children
Pumpkinpalooza: Rating 14 of Trader Joe's autumnal specialties
Source: Read Full Article