Syria drone attack leaves 54 dead and 125 wounded at military graduation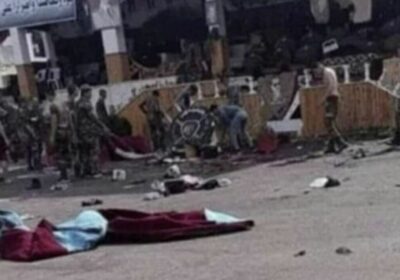 At least 44 people have been killed and 125 injured after a reported drone attack at a military academy in Homs, Syria.
It has been reported that at least seven Syrian security personnel were killed and more than 20 wounded during the attack on Thursday.
The Syrian Observatory for Human Rights said in a statement: "Seven dead and more than 20 regime officers wounded in a violent explosion in the area of the military academy in Homs, caused by an attack by drones during a graduation ceremony."
State television also reported a "terrorist attack" at the site on its channels on the Telegram messaging app, saying there were "a large number of casualties."
The ceremony was reportedly attended by the Syrian Defence Minister and commanders of the Syrian army.
Sputnik reports that the high-ranking officials had already left the campus by the time of the attack.
Syria's General Command confirmed the attack with a statement: "Continuing their criminal approach and persistently shedding Syrian blood, armed terrorist organizations, backed by well-known international parties, targeted the graduation ceremony of military college officer students in Homs this afternoon.
"These terrorists launched attacks with explosive ammunition immediately after the ceremony concluded, resulting in the tragic loss of numerous lives, including civilians and military personnel.
Dozens of individuals, including women and children from the invited families, suffered injuries, with some in critical condition. Additionally, a number of college students who participated in the graduation were affected."
We'll be bringing you the very latest updates, pictures and video on this breaking news story.
Stay up to date with all the big headlines, pictures, analysis, opinion and video on the stories that matter to you.
Follow our social media accounts here on https://www.facebook.com/ExpressUSNews and @expressusnews
Syria has been in the midst of a civil and international proxy war since 2011, when President Bashar-al-Assad violently repressed anti-government demonstrations in the country.
The conflict has killed more than 500,000 people and driven half the country's pre-war population from their homes.
We use your sign-up to provide content in ways you've consented to and to improve our understanding of you. This may include adverts from us and 3rd parties based on our understanding. You can unsubscribe at any time. More info
Source: Read Full Article