Woman slammed for 'sprinkling brother's ashes' in Ibiza club pool as people rave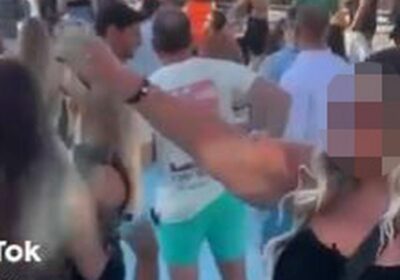 Bookmark
Never miss any of the fun stuff. Get the biggest stories and wackiest takes from the Daily Star, including our special WTF Wednesday email
Thank you for subscribing!
Never miss any of the fun stuff. Get the biggest stories and wackiest takes from the Daily Star, including our special WTF Wednesday email
We have more newsletters
A woman has caused outrage after she was filmed apparently pouring her late brother's ashes from a small clear bag into the water of a pool bar in an Ibiza club.
In a clip she posted to TikTok, the lady is seen dancing as she produces a bag with a grey substance inside, before she tips it upside down and sprinkles the contents from a height.
The blonde smiles as the grey ashes flow down into the water where dozens of other people are standing without footwear.
READ MORE: 'Mortified' mum of bloke caught bonking on easyJet flight says he met woman at airport
The caption of the clip read: "Just me sprinkling my brother about Ushuaia."
Ushuaia is described on its website as the "#1 outdoor club in Ibiza with the most famous stage in the island".
"Get into the groove of those who break the rules," the website says, plugging the beach stage.
Reacting to the video after it was circulated on X, formerly Twitter, one bloke wrote: "Well I know what pool I wont be going in when I go Ibiza."
A second person wrote: "Imagine dying and then yer ashes being spread in a pool in Ibiza hahaha. Imagine if spirits and that s**t were real, just lying at the bottom of a pool for eternity."
Millionaire who built 'UK's best man cave' told to stop making neighbours' lives hell
Ushuaia has been contacted for comment.
In Spain you cannot scatter ashes near a beach, in a public park or public area, according to urnsforashes.co.uk.
If you want to scatter ashes at sea, the ashes must be in a biodegradable urn, and you must be a minimum of three miles from the shore.
You must also have requested permission from the corresponding maritime authority.
For the latest stories from across the globe from the Daily Star, sign up for our newsletter by clicking here .
Source: Read Full Article